0

%

Business Efficiency with AI
Discover the Power of Generative AI Models through our Expert Prompt Engineering Services
Enhance your users' AI interaction with our advanced prompt engineering services. Our adept prompt engineers come with a well-established history of crafting tailored prompts for a range of AI models, such as OpenAI, Imagen, Midjourney, DALL-E, and Stable Diffusion. Their profound understanding of AI technologies like NLP and NLG ensures the delivery of a smooth and effective AI experience to your users.
Strategy and Consulting

Strategic guidance and consulting for AI initiatives.
Expertise in the latest AI technologies.
Unwavering commitment to fostering innovation.
Client success in the ever-evolving world of AI.

Analysis Service

Close collaboration with clients to define generative AI tasks.
Thorough project evaluation, including data sources and audience.
In-depth task analysis for tailored model prompts.
Optimization for delivering desired outcomes.

Design and Testing

Customized prompt designs using advanced NLP and NLG.
Rigorous testing to ensure desired performance.
High-quality prompt engineering services.
Optimization for specific client needs.

Integration and Optimization

Integration and optimization of generative AI models.
Tailored solutions for seamless performance.
Expertise in integrating with diverse systems and software.
Optimization services to maximize model value and results.
Looking for a Prompt Engineer?
Process Flow That Our Prompt Engineers Follow to Develop Solutions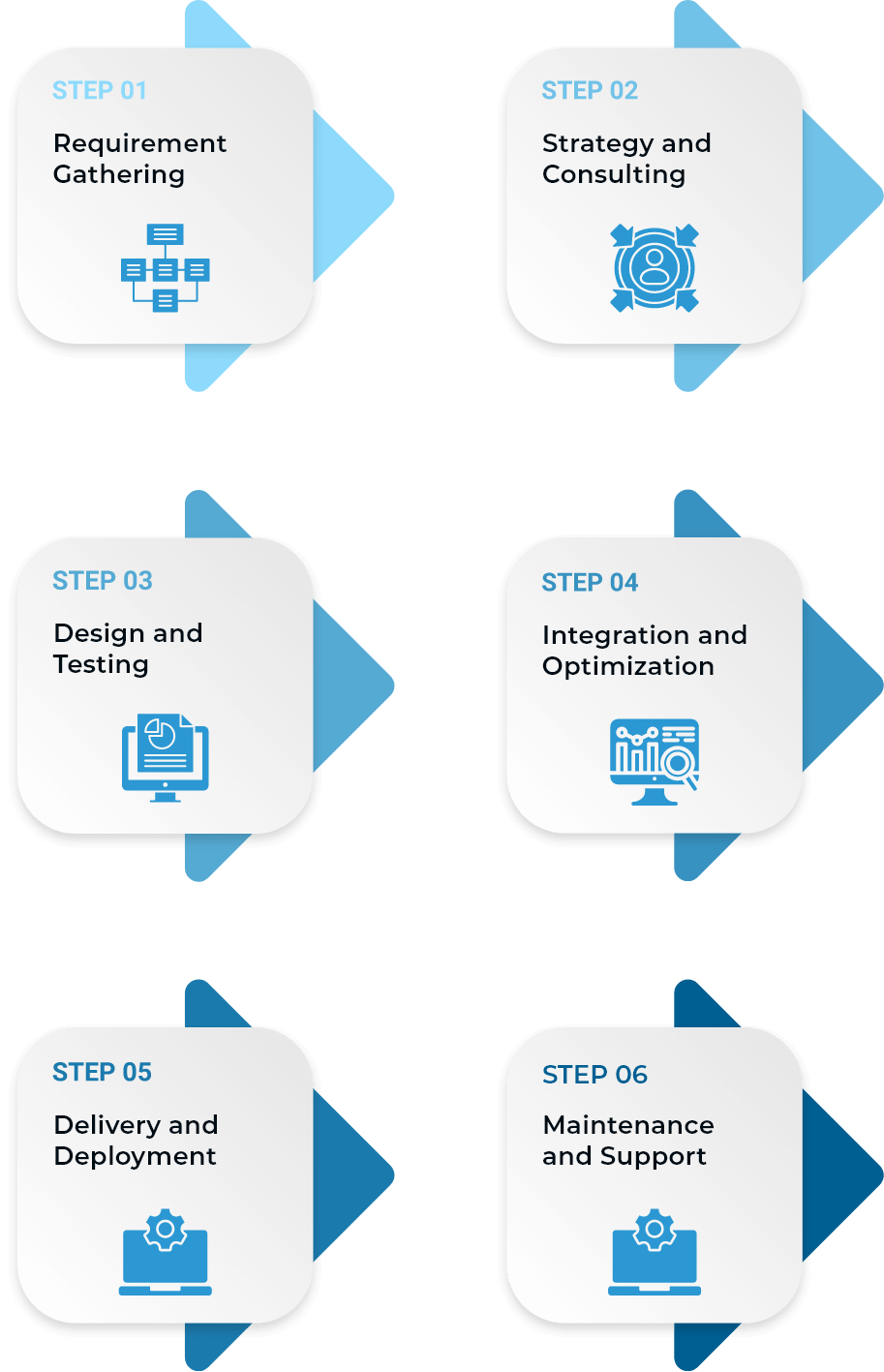 1. Requirement Gathering

In-depth understanding of client requirements, objectives, and expectations.
Comprehensive data collection for tailored prompt engineering.
Ensuring alignment with client-specific needs.

2. Strategy and Consulting

In-depth understanding of client requirements, objectives, and expectations.
Comprehensive data collection for tailored prompt engineering.
Ensuring alignment with client-specific needs.

3. Design and Testing

Crafting customized prompts for various models, including OpenAI, Imagen, Midjourney, DALL-E, and Stable Diffusion.
Thoroughly testing prompts to validate desired output generation.
Ensuring prompt design excellence for optimal results.

4. Integration and Optimization

Seamlessly integrating generative AI models into existing systems.
Conducting optimization for efficient and effective model operation.
Tailoring solutions to meet unique client requirements.

5. Delivery and Deployment

Timely delivery of the final product to the client.
Providing comprehensive deployment support.
Ensuring client proficiency in utilizing generative AI models.

6. Maintenance and Support

Providing ongoing maintenance and support for the implemented AI models and prompt engineering solutions.
Ensuring the long-term stability and performance of the generative AI models.
Offering assistance, updates, and improvements as needed to address evolving requirements.
Why Choose Cloudester for Prompt Engineers?
Expertise

Our team consists of highly skilled and experienced Prompt Engineers who excel in natural language processing, artificial intelligence, and machine learning.

Custom Solutions

We understand that every project is unique. Our Prompt Engineers can tailor solutions to meet your specific requirements, whether it's for chatbots, virtual assistants, or other NLP applications.

Quality Assurance

We rigorously vet and train our engineers to ensure they meet the highest standards. You can trust our professionals to deliver exceptional results.

Scalability

Whether you need one Prompt Engineer or a team, we can scale our services to match your project's size and complexity.

Collaboration

We work seamlessly with your in-house teams, offering support and expertise to complement your organization's capabilities.

Confidentiality

We understand the importance of data security and confidentiality. Your proprietary information is safe with us.
Our Hire Prompt Engineers Services
Our Expertise in AI Models

GPT-4
A set of OpenAI models excelling at complex problem-solving due to advanced reasoning skills and extensive general knowledge.

LLaMA
A foundational large language model, LLaMA (Large Language Model Meta AI) generates text, converses, summarizes content, solves math problems, and predicts protein structures.

PaLM2
The latest extensive language model from Google, excelling in intricate reasoning tasks like code interpretation, math solutions, categorization, queries, and multilingual translation. It showcases Google's commitment to responsible AI.

GPT-3
OpenAI's set of models for natural language processing tasks such as text generation, summarization, translation, and question answering.

DALL.E
OpenAI's DALL·E generates lifelike images and art based on text prompts, enabling image creation, modification, and variation generation.

Whisper
Whisper, a versatile speech recognition model by OpenAI, performs tasks like language identification, speech translation, and multilingual speech recognition.

Embeddings
OpenAI's Embeddings provide numeric representations of linguistic elementsa like words and phrases, capturing their semantic meaning and relationships.

Moderation
OpenAI's Moderation models assist in content moderation, identifying and removing harmful or inappropriate content from online platforms.

Stable Diffusion
Stable Diffusion generates detailed images from text prompts and handles tasks like inpainting, outpainting, and image-to-image translations guided by text.

Bard
Google's Bard, powered by LaMDA, is a text-to-text generative AI chatbot adept at engaging in human-like conversations and responses.
Our AI Tech Stack
AI Development Services

Python

.NET Core

Java
AI Development Tools

Jupyter / Anaconda

Colab

Kaggle
Cloud Computing Platforms

AWS

Azure

Google Cloud
DevOps

Synk

JFrog

Jenkins
Frameworks / Libraries

Tensor Flow

PyTorch

Keras
Data Storage & Visualization

Big Query

Power BI

Tableau
Our Engagement Models
Dedicated AI Development Team

Our proficient AI and blockchain developers are fully immersed in leveraging cognitive technologies to provide exceptional services and solutions to our clients.

Extended Team Enrichment

Our extended team model is thoughtfully designed to support clients in expanding their teams with the necessary expertise for AI-driven projects.

Project-focused Strategy

Embracing our project-based approach, our skilled software development specialists collaborate directly with clients and the triumphant realization of AI-infused projects
Get Started Today

Contact Us
Complete our secure contact form, Book a calendar slot and set up a Meeting with our experts.

Get a Consultation
Engage in a call with our team to evaluate the feasibility of your project idea. We'll discuss the potential, challenges, andopportunities.

Receive Cost Estimates
Based on your project requirements, we provide a detailed project proposal, including budget and timeline estimates.

Project Kickoff
Upon agreement, we assemble a cross-disciplinary team to initiate your project. Our experts collaborate to launch your project successfully.
Start a conversation by filling the form
Build your top-notch AI product using our in-depth experience. We should discuss your project.
Frequently Asked Questions
What is a prompt engineer's role?
Prompt engineers specialize in optimizing AI models by tailoring prompts for specific outputs.
Why hire a prompt engineer?
They ensure AI models generate desired results, enhancing project success.
How to choose the right prompt engineer?
Consider their experience, domain expertise, and past projects.
What to provide to a prompt engineer?
Clear project goals, data, audience details, and desired outcomes.
Can they work remotely or on-site?
Most work remotely, but on-site collaboration may be possible.
How long do projects take?
Timelines vary based on project complexity and scope.
Key benefits of hiring a prompt engineer?
Improved model performance, tailored solutions, and faster project delivery.
What affects the cost of hiring a prompt engineer?
Project complexity, engineer experience, and scope influence costs.