0

%

Business Efficiency with AI
Our UI/UX Design Services
High-fidelity Prototype

Create interactive prototypes showcasing real application behavior.
Visualize your project's workflow and functionality.

Wireframes

Develop wireframes outlining content, structure, and functionality for your mobile or web app.
Offer a blueprint for your app's and software's pages.

Mobile and Web User Interface Design

Transform ideas into clear, fully functional, and user-centric designs.
Craft user interfaces aligned with user preferences and expectations.

Cross-Platform Compatibility

Emphasize core UI design principles and cross-platform responsiveness.
Ensure seamless performance across diverse platforms.

Technical Design

Craft a technical design illuminating project workflows.
Define the technology stack for app components, third-party integrations, and service/API interactions.

Software Redesign

Enhance the appeal and professionalism of existing apps or websites.
Conduct evaluations and user assessments to create engaging and aesthetically pleasing software.
Our approach to providing UI/UX Design Services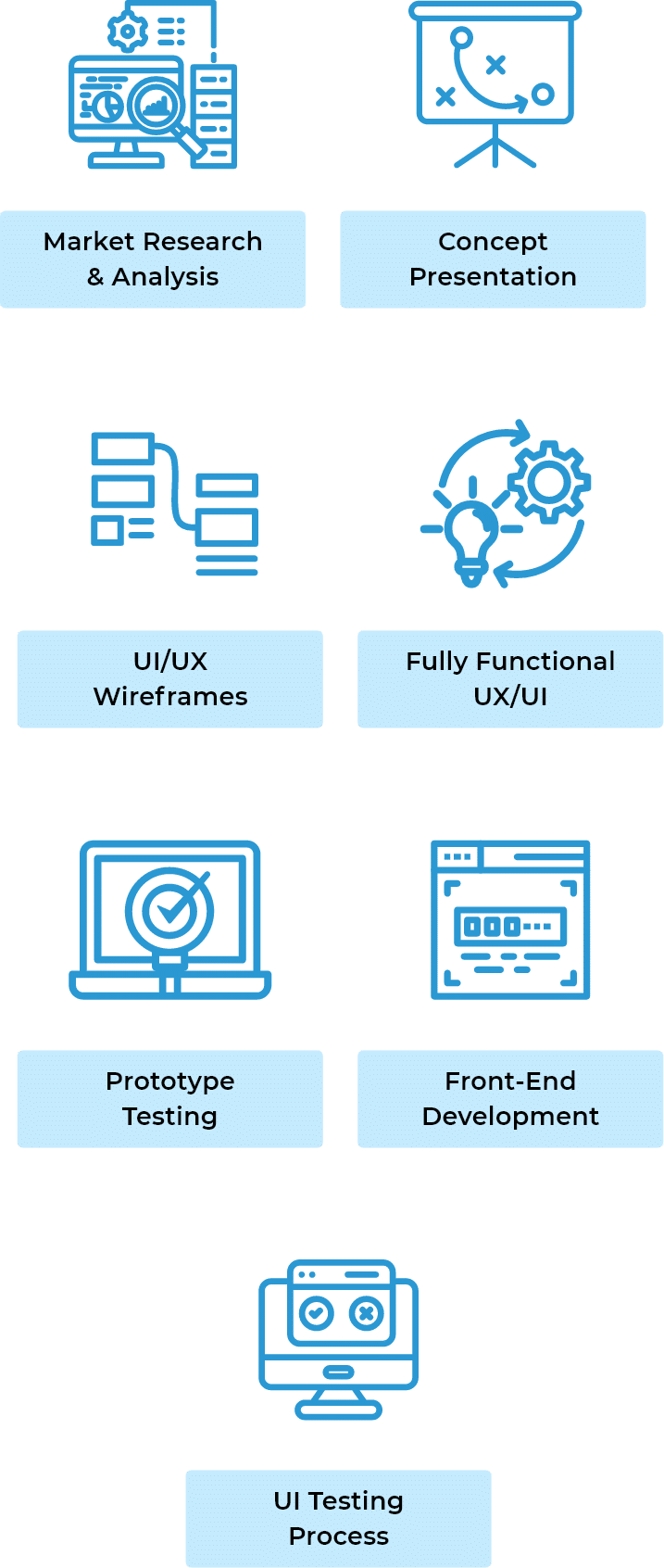 Market Research & Analysis
We kickstart the UX process by gathering, analyzing, and defining requirements to gain insights into user desires and objectives.
Concept Presentation
We introduce the project's core features and develop its information architecture to present the project's concept effectively.
UI/UX Wireframes
We prototype the app or website's structure, outlining the essential elements to be included on each page.
Fully Functional UX/UI
After wireframe approval, we create a complete and functional UI/UX design for your application.
Prototype Testing
We offer early-stage testing opportunities to clients to evaluate UI/UX functionality before final design implementation.
Front-End Development
Once the designs are finalized, we proceed with the front-end development phase.
UI Testing Process
We rigorously test for bugs and errors, providing recommendations to improve performance and functionality.
What makes our UI/UX Design Services Astounding?
Embark on your digital transformation journey with confidence, guided by certified cloud development professionals
Extensive Expertise
Wide Industry Reach:

We've designed apps and software across diverse sectors, including healthcare, finance, retail, entertainment, and insurance.

Industry Insights:

Our deep understanding of industry-specific needs ensures our solutions are highly effective.
Transparency, Communication, and Collaboration
Full Visibility:

We maintain complete project transparency.

Open Communication:

Regular updates through weekly calls and reports ensure seamless collaboration with our clients.
We create UI/UX Designs for Emerging Technologies
Blockchain Technology

Leverage our extensive experience with 12+ years and 150+clients.
Unlock the potential of Blockchain for your business concept through our software strategy consulting services.

Artificial Intelligence

Harness the power of next-generation AI with our expertise in Machine Learning, RPA, Image Processing, and Deep Learning models.
Transform your business with cutting-edge AI software solutions tailored to your needs.

Augmented Reality

Embrace the potential of AR to streamline essential tasks and boost efficiency.
We specialize in turning innovative ideas into real-world AR applications that deliver tangible value.

Mobile & Web Apps

Benefit from our team's pioneering experience, including launching one of the first commercial apps on the App Store.
Receive end-to-end assistance, from ideation to successful mobile/web app launch, ensuring your project's success.

Internet of Things

Tap into our extensive knowledge of IoT systems and technologies.
Our IoT specialists design and develop secure IoT solutions that facilitate data collection and enhance critical processes for your business.
Our Custom Software Consulting Span over Diverse Industries
FinTech

Streamlined User Dashboards: Designing intuitive dashboards for easy financial management.
Secure Payment Processes: Ensuring seamless, secure, and user-friendly payment interfaces.

Healthcare

Patient-Centric Interfaces: Creating user-friendly portals for accessing medical records and appointment scheduling.
Telemedicine Experience: Designing user-centric interfaces for virtual healthcare consultations.

Retail & E-Commerce

Enhanced Shopping Journeys: Crafting intuitive product search and checkout processes.
Personalized Recommendations: Implementing UI/UX to drive product discovery and customer engagement.

Logistics

Efficient Tracking Systems: Designing user interfaces for real-time shipment tracking and management.
Supply Chain Optimization: Creating intuitive dashboards for streamlined logistics operations.

Startup

User-Centric Prototypes: Developing user-focused prototypes to validate startup concepts.
Scalable User Interfaces: Crafting flexible UI/UX designs to accommodate rapid growth.

Automotive

Connected Vehicle Interfaces: Designing user-friendly apps for remote vehicle management.
In-Car Experience: Enhancing the in-car user experience through intuitive interfaces.

Manufacturing

Process Automation: Streamlining production processes with user-friendly control panels.
Data Visualization: Creating intuitive data dashboards for monitoring manufacturing operations.

Travel & Hospitality

Seamless Booking Experiences: Designing user-friendly platforms for travel bookings.
Guest-Centric Apps: Crafting intuitive hotel and travel apps for a memorable guest experience.
Our Engagement Models
Dedicated AI Development Team

Our proficient AI and blockchain developers are fully immersed in leveraging cognitive technologies to provide exceptional services and solutions to our clients.

Extended Team Enrichment

Our extended team model is thoughtfully designed to support clients in expanding their teams with the necessary expertise for AI-driven projects.

Project-focused Strategy

Embracing our project-based approach, our skilled software development specialists collaborate directly with clients and the triumphant realization of AI-infused projects
Get Started Today

Contact Us
Complete our secure contact form, Book a calendar slot and set up a Meeting with our experts.

Get a Consultation
Engage in a call with our team to evaluate the feasibility of your project idea. We'll discuss the potential, challenges, andopportunities.

Receive Cost Estimates
Based on your project requirements, we provide a detailed project proposal, including budget and timeline estimates.

Project Kickoff
Upon agreement, we assemble a cross-disciplinary team to initiate your project. Our experts collaborate to launch your project successfully.
Start a conversation by filling the form
Build your top-notch AI product using our in-depth experience. We should discuss your project.
Frequently Asked Questions
What is UI/UX design, and why do I need it for my project?
UI (User Interface) design focuses on the visual elements and layout of a digital product, while UX (User Experience) design ensures the overall usability and user satisfaction. Having strong UI/UX design is essential for creating user-friendly and visually appealing digital experiences.
How can UI/UX design benefit my business or project?
Effective UI/UX design can improve user engagement, increase user retention, boost conversion rates, and ultimately enhance your brand's reputation and ROI.
What does the UI/UX design process typically involve?
The UI/UX design process includes user research, wireframing, prototyping, user testing, and iterative design improvements to create a seamless and intuitive user experience.
How do you conduct user research in UI/UX design?
We employ various methods, such as user interviews, surveys, and analytics, to understand your target audience's needs, preferences, and pain points.
What are wireframes, and why are they important in the design process?
Wireframes are simplified visual representations of a digital interface's layout and structure. They serve as a blueprint for the design, ensuring that the user flow and content placement make sense before proceeding with visual design.
How do you ensure mobile responsiveness in UI/UX design?
We design interfaces that are responsive and adapt smoothly to different screen sizes and devices, providing a consistent and user-friendly experience across mobile, tablet, and desktop platforms.
What role does usability testing play in UI/UX design?
Usability testing involves real users interacting with a prototype or finished product to identify any usability issues, gather feedback, and make necessary improvements to enhance the overall user experience.
How can I initiate a UI/UX design project with your team?
You can get started by reaching out to us through our contact page. We'll discuss your project requirements and guide you through the process to create a successful UI/UX design tailored to your needs.