0

%

Business Efficiency with AI
Boosting Your Business's Innovation with Our Custom Software Development Services
With more than 12 years of experience, we've successfully created over 100 software products, showcasing our mastery in designing and developing tech solutions. Our custom software applications are tailored to fit your unique needs, budget, and schedule.
Application Services

Design, testing, deployment, management, and maintenance of apps.
Expertise across mobile, web, and desktop platforms.

Mobile App Development

Expertise across iOS, Android, and cross-platform solutions.
User-friendly, responsive, and feature-rich mobile applications.

Custom Software Development

Integration of core business process functionality.
Customized software capabilities and features tailored to your precise needs.

Software Consulting

Idea discovery, technology insights, and risk analysis.
Crafting a growth strategy from user acquisition to monetization.

Testing & QA

Expertise in performance, automated, and functional testing.
Enhancing software security, usability, and quality.

UI/UX Design

Incorporating current UI/UX trends with client preferences.
Delivering vibrant and user-friendly designs for all applications and software.
Our Software Development Process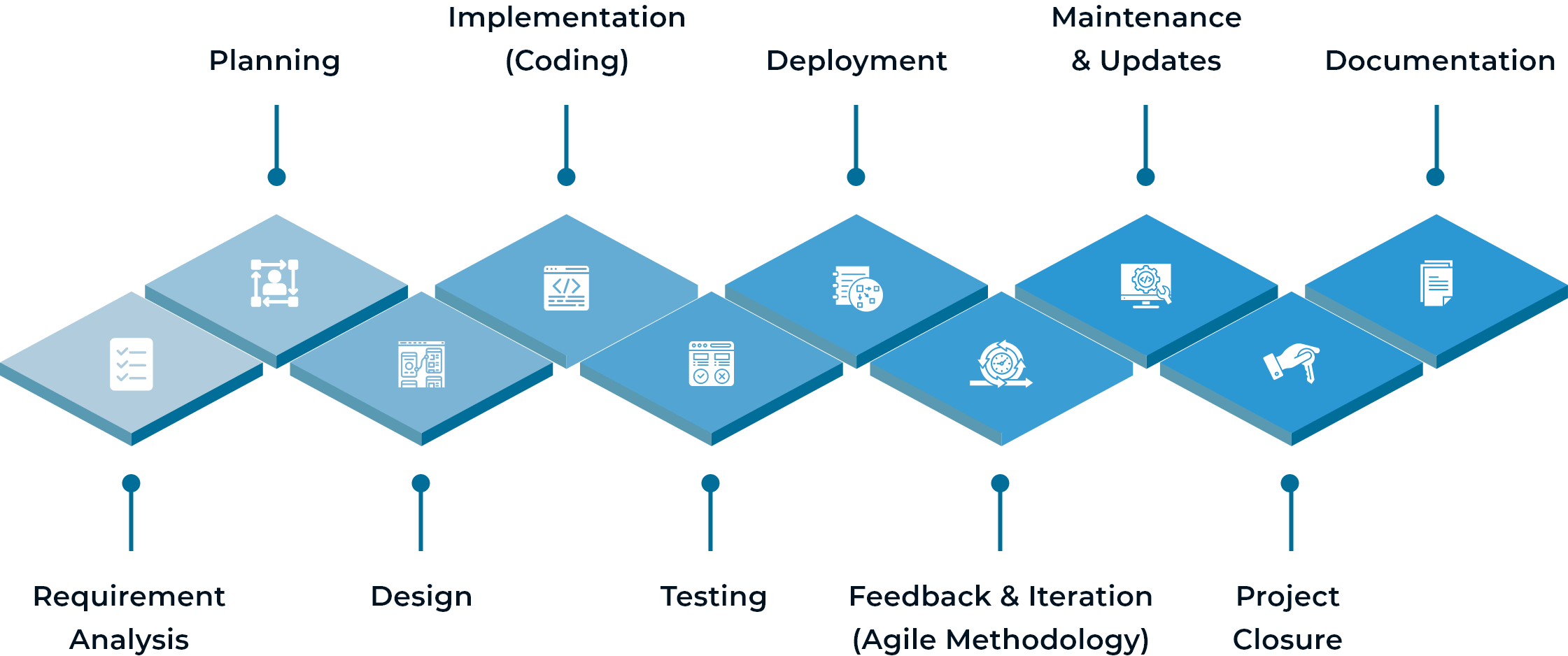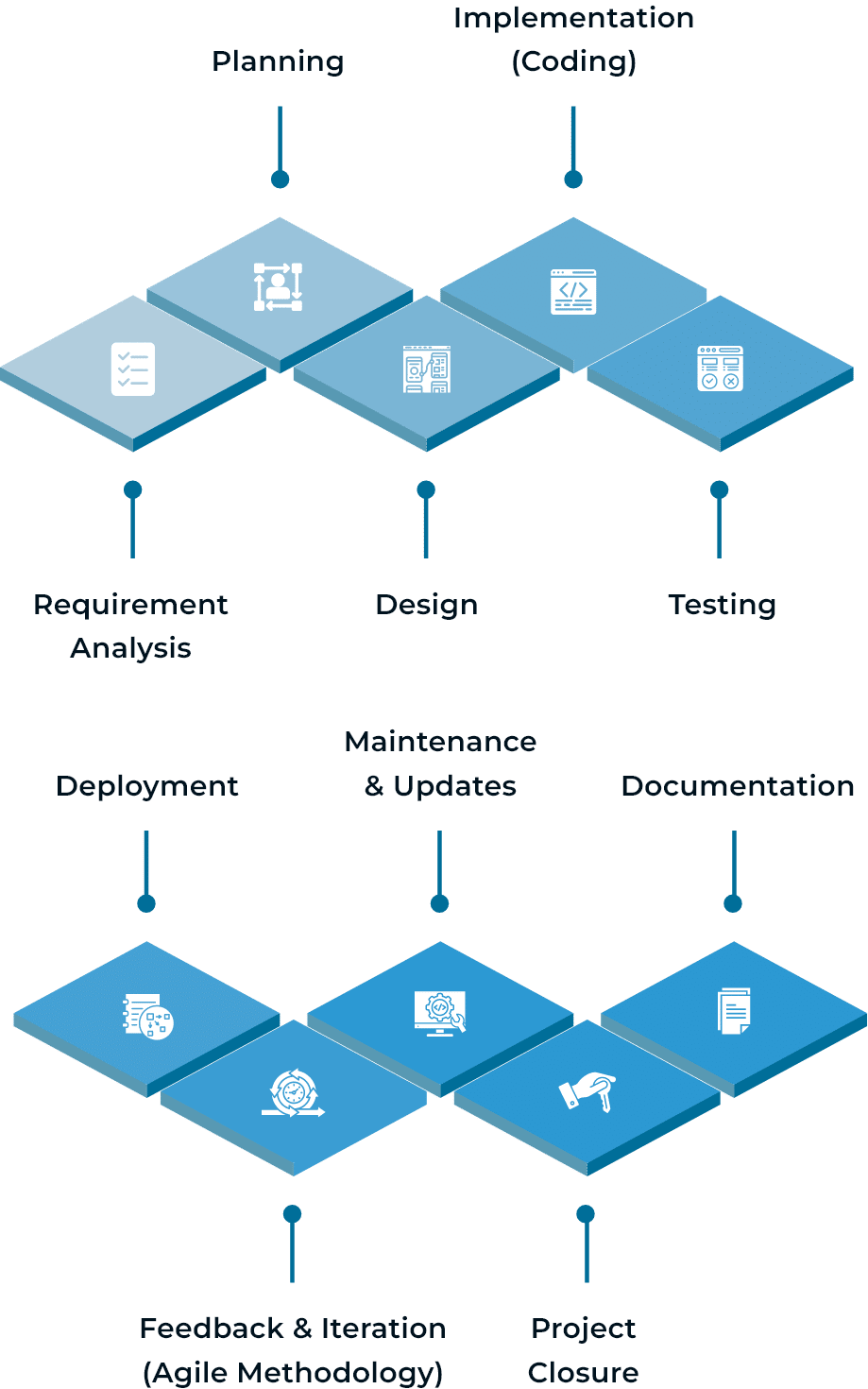 Requirement Analysis

Identify and document the project's goals and requirements.
Define the scope of the software and gather input from stakeholders.

Planning

Create a project plan, including timelines, resource allocation, and budget.
Define the architecture and technology stack.

Design

Create a detailed design of the software's structure, user interface, and database schema.
Develop prototypes or wireframes to visualize the software.

Implementation (Coding)

Write the actual code according to the design specifications.
Developers collaborate to build the software's functionality.

Testing

Perform various types of testing, including unit testing, integration testing, and system testing.
Identify and fix bugs and issues.

Deployment

Deploy the software to a production environment.
Ensure that it works smoothly in the real-world setting.

Feedback and Iteration (Agile Methodology)

Collect feedback from users and stakeholders.
Make iterative improvements to the software based on feedback.

Maintenance and Updates

Provide ongoing support to users.
Address bug fixes and security updates.
Implement new features or enhancements as needed.

Documentation

Create user manuals, technical documentation
Create system documentation.

Project Closure

Close the project, documenting lessons learned.
Close the archiving project-related materials.
Our Custom Software Development Span over Diverse Industries
Health Care

Streamline electronic health records (EHR) management for healthcare providers.
Enhance telemedicine capabilities to provide remote healthcare services.

FinTech

Implement AI-driven fraud detection and prevention.
Offer personalized financial recommendations through data analytics.

Logistics

Improve inventory tracking and demand forecasting.
Enhance supply chain visibility with real-time tracking and analytics.

Retail & E-Commerce

Implement inventory management systems for efficient stock control.
Enable seamless omni-channel shopping experiences with integrated platforms.

Travel & Hospitality

Develop loyalty programs and personalized offers for travelers.
Implement AI-powered chatbots for customer support and queries.

Manufacturing

Integrate IoT sensors for real-time monitoring of equipment.
Optimize supply chain logistics for just-in-time manufacturing.

Start-Up Product Development

Conduct market research and competitive analysis.
Create scalable architectures for future product growth.

Insurance

Develop AI algorithms for automated underwriting and risk assessment.
Enable mobile claims processing and instant payouts.

Consumer Electronics

Enhance user interfaces with voice and gesture recognition.
Ensure product compatibility with IoT ecosystems for smart homes.
Our Engagement Models
Dedicated AI Development Team

Our proficient AI and blockchain developers are fully immersed in leveraging cognitive technologies to provide exceptional services and solutions to our clients.

Extended Team Enrichment

Our extended team model is thoughtfully designed to support clients in expanding their teams with the necessary expertise for AI-driven projects.

Project-focused Strategy

Embracing our project-based approach, our skilled software development specialists collaborate directly with clients and the triumphant realization of AI-infused projects
Why Cloudester?
Bringing inventive solutions to address your most significant business obstacles.

Extensive Expertise
Leveraging over 12 years of experience, we excel in crafting triumphant AI solutions for you.

Diverse Skill Set
Our senior AI developers possess prowess in AI, NLP, and Big Data, ensuring comprehensive solutions.

Domain Proficiency
Your distinct challenges are understood, paving the way for tailor-made solutions that precisely fit your requirements.
Get Started Today

Contact Us
Complete our secure contact form, Book a calendar slot and set up a Meeting with our experts.

Get a Consultation
Engage in a call with our team to evaluate the feasibility of your project idea. We'll discuss the potential, challenges, andopportunities.

Receive Cost Estimates
Based on your project requirements, we provide a detailed project proposal, including budget and timeline estimates.

Project Kickoff
Upon agreement, we assemble a cross-disciplinary team to initiate your project. Our experts collaborate to launch your project successfully.
Start a conversation by filling the form
Build your top-notch AI product using our in-depth experience. We should discuss your project.
Frequently Asked Questions
What should I look for in a software application development company?
Before selecting a software development partner, follow this checklist:
Relevant Experience: Evaluate if the company has prior experience in projects similar to yours, and review their portfolio. Look for client reviews on platforms like GoodFirms or Clutch.
Technology Expertise: Ensure the company specializes in the technologies your project requires. For instance, if you need IoT development, verify their IoT capabilities.
Team Size Balance: Consider the company's team size carefully. A too-small team may lack support, while an overly large one might not provide enough attention. Select a team size aligned with your project needs.
Recognitions and Awards: Look for any industry recognition or awards the company has received. These accolades signify the company's skill and competence in successful software delivery.
What do we do as a software development company?
As a software development company, our mission is to craft tailored solutions for various needs, encompassing the entire software development lifecycle:
Problem-Solving Solutions: We specialize in creating comprehensive software solutions that address specific consumer needs and business challenges, utilizing a range of processes and techniques.
Multi-Functional Programs: Our software programs are designed to offer versatility, performing multiple beneficial functions for end-users.
Technical Expertise: We offer not only software development but also valuable technical insights. Our consultancy services and research efforts aim to enhance our clients' businesses by harnessing a wide array of cutting-edge technologies."
How much does it cost to build a software?
Software project costs are influenced by scope, time, technology, features, platform, UI, integrations, and performance.
How to choose a software development services company?
Company's Portfolio:
Before choosing a software development firm, carefully review their website, especially the Work and Case Study sections, to explore their portfolio. This helps assess their expertise in relevant technologies and industries.
Technology Specialization:
A reputable software development company openly showcases its specialized technologies on their website. This information helps gauge their proficiency in the technologies essential for your project.
Company Reviews:
To ensure project success, seek a company with a proven track record. Visit review platforms like GoodFirms and Clutch to assess client feedback, project costs, team size, services, and portfolio. Genuine reviews provide valuable insights.
Ownership Clarity:
To avoid ownership conflicts, ensure the contract clearly defines software ownership rights, complying with state laws. This safeguards your exclusive use of the developed software and prevents competitors from accessing it.
What are the software development services provided by our software development company?
Software Consulting:
Our consulting team provides critical insights, conducting feasibility checks to determine if your software requirements align with your business goals. We create comprehensive plans and product roadmaps based on your needs.
Visual and Technical Design:
We design user interfaces tailored to your business needs, ensuring a seamless user experience. Our services include wireframes, marvel prototypes, system blueprints, and UI/UX designs.
Web Development:
We specialize in creating web-based software applications, encompassing websites and web applications with a unified, sophisticated architecture.
Mobile App Development:
Our expertise extends to mobile app development, catering to both iOS and Android platforms. Additionally, we offer cross-platform solutions, utilizing web technologies like Progressive Web Apps.
Data Science and Artificial Intelligence:
We assist organizations in leveraging their data's untapped potential through the development of analytics tools. Our expertise includes machine learning, deep learning, and more.
Embedded Systems:
In the era of IoT, embedded systems development is on the rise. We possess the coding skills required for embedded systems like Arduino and Raspberry Pi, enabling us to meet the demands of this growing field.
What software development tools do you use to develop apps and software?
Our team of software developers harnesses a curated set of powerful tools to create robust and secure software applications. Here's a glimpse of our toolset:
Code Repositories:
GitHub: A popular web-based Git repository hosting service for code review, software building, and project management.
Bitbucket: A Git-based repository hosting service, offering both cloud and on-premise versions.
Issue Tracking and Project Management:
Jira: A versatile development planning tool for issue and project tracking, favored by Agile Software Development Teams.
Trello: A customizable project management tool with user-friendly Kanban and Scrum boards.
Toggl: A time tracking tool providing insights into task allocation and integration capabilities.
Integrated Development Environments (IDE):
NetBeans: A free, open-source IDE supporting desktop, mobile, and web application development, known for its efficient code editing and UI development features.
Atom: An open-source text editor offering customization without modifying config files, compatible with multiple operating systems.
XCode: Apple's macOS IDE with a suite of development tools, featuring visual settings and error prevention mechanisms.
What are types of software development?
Software development is a thriving field with applications across diverse industries like healthcare, logistics, travel, fintech, and manufacturing. Within this field, various specialized roles include:
Web Development
Mobile App Development
Data Science Solutions
Back-end Development
API Development
Cloud Computing
What is the most important step while developing custom software?
Selecting the top software development company is crucial as it ensures you have a capable team of developers who can skillfully integrate custom features to optimize your business processes. Making the wrong choice can result in project delays, inexperienced developers, and missed deadlines, potentially jeopardizing your project's success.