0

%

Business Efficiency with AI
Propel Your Success with the Rising Value of Generative AI
Tackle Inefficiencies, Innovate Business Models with Generative AI

Simplify Your Operations
Add smart AI tools to your digital systems to make tasks easier and your back-office work smoother. Our AI experts put AI models into your automated systems to make them work even better.

Increase Customer Satisfaction
Solve customer service challenges with an AI that's always ready to talk. Have an AI tool that creates special answers for customer questions, suggests products they might like, and lets them help themselves in different ways.

Market Analysis Large Scale
From understanding feelings to studying markets, AI platforms make analyzing data faster and simpler. Change how you look at information, add to what you know, and find lots of insights with ease.

Speed Up Innovation
Bring new ideas to your business quickly, from creating things to making them look great. Use our AI experts to develop new products and move ahead faster in your industry.
Our Generative AI Development Services
Using our knowledge in various AI technologies such as deep learning, machine learning, computer vision, reinforcement learning, and natural language processing, we design effective Generative AI models and solutions inspired by ChatGPT, Midjourney, DALL-E, and Stable Diffusion.
Strategy and Consultation Expertise

AI Consulting Expertise: Guiding you through strategy, planning, and project initiation.
Innovation Impact Assessment: Estimating how innovation will affect your operations.
ROI Evaluation: Calculating the Return on Investment to ensure project profitability.
Enhancing AI Integration: Equipping you with tools to promote AI acceptance.

Complete Generative AI Model Development

Comprehensive Generative AI Modeling: Using machine learning algorithms such as RNNs, transformers, Markov Chains, GANs, and autoencoders.
Customized Model Creation: Crafting, configuring, and training models tailored to client needs.
Thorough Validation Process: After training, validating models with datasets for compliance with industry standards.
Industry-Ready Assurance: Ensuring models meet standards through security audits and testing.

Customized Generative AI Tools

We adapt generative AI tools and fine-tune Language Model Models (LLMs) using your unique data, ensuring they align with your specific tasks and business needs.

Improved Language Models: We enhance language models for better results.
Easy API Connection: We connect APIs smoothly for seamless interaction.
Modernized Data Handling: We update data systems for better efficiency.
Effortless Cloud Move: We help you transition to the cloud with ease.

Upgrade and Maintenance

We provide post-production optimization services like fine-tuning and upgradation of the model to ensure it performs optimally as per the latest AI trends while meeting the changing needs of your business.

Model Performance Oversight: Our support team keeps a watchful eye on how well your language model is working.
Regular Model Enhancements: We frequently update your model to keep it at its best.
Data Refinement Process: We maintain a system for refreshing your data, ensuring its accuracy.
Risk Control and Compliance: We make sure your AI system follows risk and compliance rules.

Seamless Model Integration and Deployment

Comprehensive Assessment: We deeply evaluate and comprehend your needs for secure and successful integration and deployment.
End-to-End OpenAI Services: Our integration and deployment service encompasses everything, including model selection, setup, integration, testing, and final deployment.

Enhancing Model Performance

Refining for Specific Tasks: Through techniques like transfer learning, learning rate scheduling, data augmentation, regularization, and hyperparameter tuning, we enhance the performance of generative AI models for particular tasks.
Leveraging Existing Knowledge: Our approach allows models to use prior knowledge, boosting performance on the intended task.
How Our Generative AI Development Services Set You Apart from the Competition?

Streamlined Automation
With Generative AI solutions, tasks like data processing, analysis, and content creation become automated, freeing up time and reducing workload. This enables a focus on higher-order human intelligence.

Enhanced Productivity
Our services boost productivity by utilizing Generative AI to develop novel solutions for intricate challenges. Analyzing extensive customer feedback, these systems generate innovative ideas and solutions to enhance customer experience.

Amplified Creativity
Through Generative AI inspired by models like chatGPT, Midjourney, DALL-E, and Stable Diffusion, we foster innovation. This elevates creativity by enhancing product and service performance.

Optimized Costs
Generative AI automates repetitive tasks, minimizing manual efforts and decreasing operational expenses. This leads to cost savings and improved profitability.
Generative AI in Action
Customer-Centric Innovation

Generative AI Customer Service:
Enhance customer interactions with chatbots that create natural conversations and respond quickly to customer needs, lightening the load on your support team.

Tailored Experiences

Real-Time Personalization:
Utilize automation for personalized messaging, targeted marketing, and tailored sales copy, driven by thorough customer data analysis.

Informed Decision-Making

Customer and Business Analytics:
Expand your data analysis capabilities, automate insights, cost-effectively analyze data, and transform your dashboards into dynamic data advisors.

Efficient Operations

Business Process Automation:
Streamline operations by automating resource-intensive tasks across all functional areas, from document management to procurement.
How We Approach Your AI Project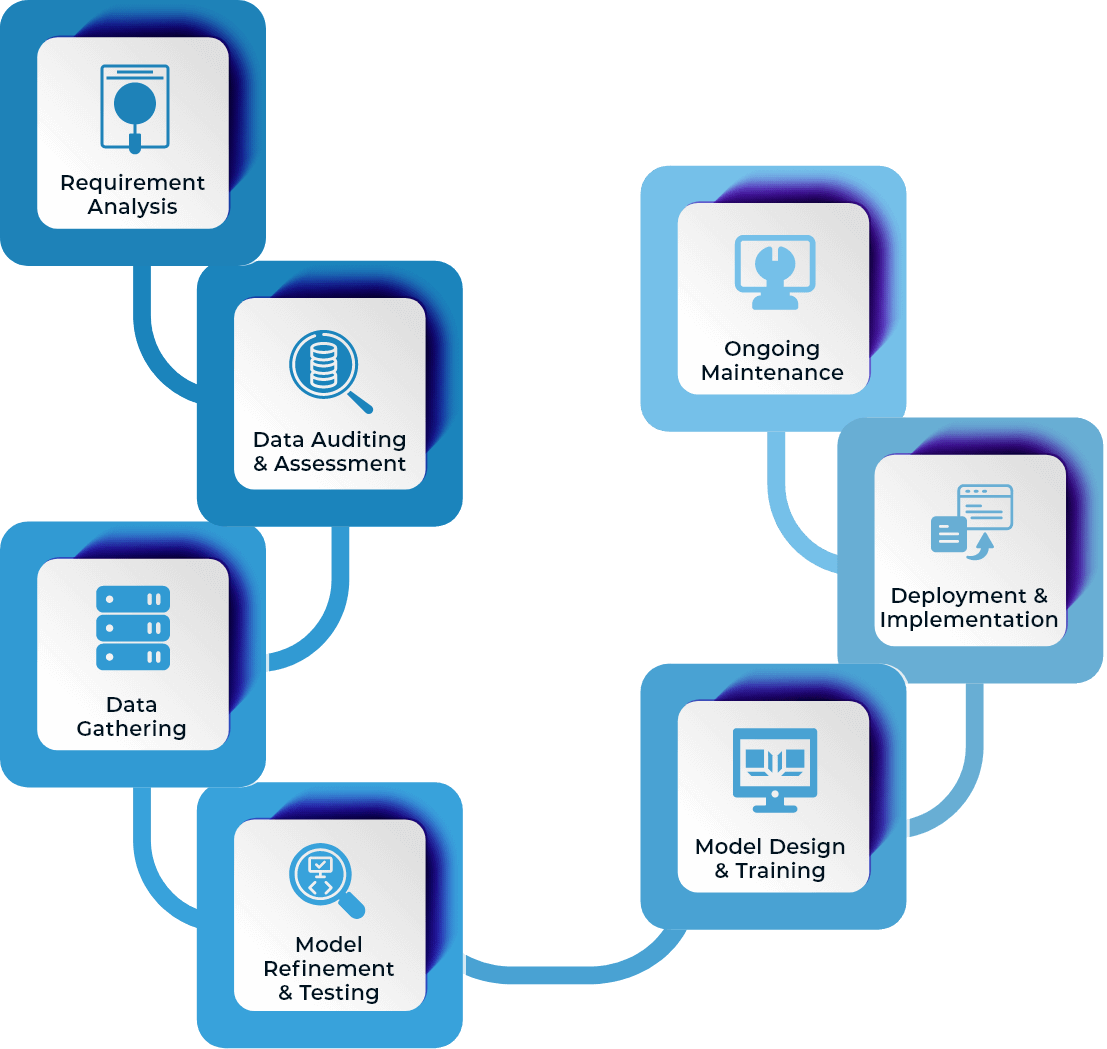 Our Generative AI Solutions Span Diverse Industries
Banking and Finance

Discover precision in fraud detection. We curate a dataset of fraudulent transactions to train a Generative Adversarial Network (GAN). This produces synthetic yet accurate fraudulent transactions, enabling real-time identification of anomalies.

Retail

Fashion evolves with AI. Using GANs, we craft AI-generated on-model fashion imagery. This innovation offers cost-effective, time-saving solutions and an ever-improving variety of images, revolutionizing the industry.

Healthcare

Visualizing health anew. Our GANs-based system transforms X-rays and CT scans into lifelike images. This aids doctors in informed decisions, optimizing resources, and saving costs for healthcare providers and patients

Supply Chain and Logistics

Logistics reimagined. Generative AI turns satellite images into detailed maps, revealing hidden insights. This innovation empowers strategic decisions across a spectrum of applications.

Travel

Next-gen travel security. Our cutting-edge AI generates complete passenger facial profiles, enhancing identification systems at airports. Elevate travel safety with our breakthrough technology.

Marketing

Reshape marketing with AI. Our Generative AI refines client segmentation, predicting responses and crafting synthetic outbound messages. Elevate your marketing strategy for unmatched success.
Our Generative AI Development Services - Our Expertise in AI Models

GPT-4
A set of OpenAI models excelling at complex problem-solving due to advanced reasoning skills and extensive general knowledge.

LLaMA
A foundational large language model, LLaMA (Large Language Model Meta AI) generates text, converses, summarizes content, solves math problems, and predicts protein structures.

PaLM2
The latest extensive language model from Google, excelling in intricate reasoning tasks like code interpretation, math solutions, categorization, queries, and multilingual translation. It showcases Google's commitment to responsible AI.

GPT-3
OpenAI's set of models for natural language processing tasks such as text generation, summarization, translation, and question answering.

DALL.E
OpenAI's DALL·E generates lifelike images and art based on text prompts, enabling image creation, modification, and variation generation.

Whisper
Whisper, a versatile speech recognition model by OpenAI, performs tasks like language identification, speech translation, and multilingual speech recognition.

Embeddings
OpenAI's Embeddings provide numeric representations of linguistic elementsa like words and phrases, capturing their semantic meaning and relationships.

Moderation
OpenAI's Moderation models assist in content moderation, identifying and removing harmful or inappropriate content from online platforms.

Stable Diffusion
Stable Diffusion generates detailed images from text prompts and handles tasks like inpainting, outpainting, and image-to-image translations guided by text.

Bard
Google's Bard, powered by LaMDA, is a text-to-text generative AI chatbot adept at engaging in human-like conversations and responses.
Our Generative AI Development Technology Stack
AI Development Services

Python

.NET Core

Java
AI Development Tools

Jupyter / Anaconda

Colab

Kaggle
Cloud Computing Platforms

AWS

Azure

Google Cloud
DevOps

Synk

JFrog

Jenkins
Frameworks / Libraries

Tensor Flow

PyTorch

Keras
Data Storage & Visualization

Big Query

Power BI

Tableau
Our Engagement Models
Dedicated AI Development Team

Our proficient AI and blockchain developers are fully immersed in leveraging cognitive technologies to provide exceptional services and solutions to our clients.

Extended Team Enrichment

Our extended team model is thoughtfully designed to support clients in expanding their teams with the necessary expertise for AI-driven projects.

Project-focused Strategy

Embracing our project-based approach, our skilled software development specialists collaborate directly with clients and the triumphant realization of AI-infused projects
Why Choose Cloudester?
Bringing inventive solutions to address your most significant business obstacles.

Extensive Expertise
Leveraging over 12 years of experience, we excel in crafting triumphant AI solutions for you.

Diverse Skill Set
Our senior AI developers possess prowess in AI, NLP, and Big Data, ensuring comprehensive solutions.

Domain Proficiency
Your distinct challenges are understood, paving the way for tailor-made solutions that precisely fit your requirements.
Get Started Today

Contact Us
Complete our secure contact form, Book a calendar slot and set up a Meeting with our experts.

Get a Consultation
Engage in a call with our team to evaluate the feasibility of your project idea. We'll discuss the potential, challenges, andopportunities.

Receive Cost Estimates
Based on your project requirements, we provide a detailed project proposal, including budget and timeline estimates.

Project Kickoff
Upon agreement, we assemble a cross-disciplinary team to initiate your project. Our experts collaborate to launch your project successfully.
Start a conversation by filling the form
Build your top-notch AI product using our in-depth experience. We should discuss your project.
Frequently Asked Questions
What is Generative AI and how does it work?
Generative AI employs advanced deep learning algorithms to craft fresh content based on existing data, creating novel outputs through techniques like machine learning.
What services does a Generative AI development company provide?
Services include content creation, image synthesis, and data augmentation, tailored to your business needs.
What types of content can Generative AI create?
Generative AI crafts images, text, music, and more, tailored to industry needs.
How does Generative AI enhance engagement?
It produces personalized content resonating with audiences, boosting interactions and loyalty.
Can Generative AI assist in data augmentation?
Yes, it creates synthetic data, enhancing machine learning model robustness.
How does Generative AI enhance data visualization?
It creates compelling visuals for complex data, enhancing comprehension.
How does Generative AI contribute to artistic expression?
It empowers artists with tools to create novel artworks, designs, and music.
How secure is data used in Generative AI?
Data security is a priority, adhering to strict protection protocols.
Why select Cloudester as your AI development partner?
Our AI experts collaborate with clients to build advanced solutions and unlock automation's potential in real-world scenarios.
We create top-notch generative AI models, akin to ChatGPT, Midjourney, DALL-E, and Stable Diffusion. Our flexible AI project approaches cater to specific client needs.