0

%

Business Efficiency with AI
Our App Development Services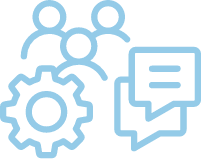 Consulting
Conduct in-depth research to understand your business, target market, and competition.
Collaborate with your team to develop a comprehensive project roadmap.
Define project goals, timelines, budgets, and milestones.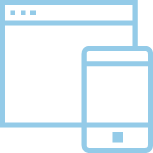 Mobile/Desktop Application Development
Provide end-to-end application development for both mobile and desktop platforms.
Focus on creating user-friendly, visually appealing, and highly efficient applications.
Aim to deliver a seamless and engaging user experience for your customers.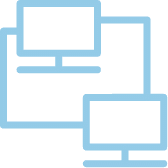 Integration
Offer integration services for connecting your app with other systems and services.
Specialize in API integration, third-party service integration (e.g., cloud storage, marketing tools), and enterprise system integration.
Tailor custom integration solutions to meet your specific business needs.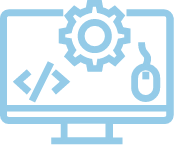 Web Application Development
Develop web applications that function smoothly within web browsers.
Utilize the latest technologies and frameworks to ensure speed, security, and ease of use.
Create fast, secure, and user-friendly web applications.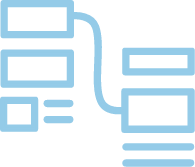 UI/UX Design
Design your app's UI/UX with a focus on visual appeal and functionality.
Develop wireframes and prototypes to ensure a user-friendly and intuitive interface.
Prioritize an excellent user experience for consistency and engagement.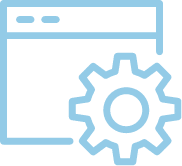 Support and Maintenance
Provide ongoing support and maintenance services.
Include frequent software updates, bug fixes, and performance improvements.
Ensure enhanced functionality, security, and user experience through continuous care and optimization.
The Types of Apps We Develop
iOS Apps

Pioneers in iPhone app development since 2007.
Proficient in Objective C programming and Apple Native SDK.
Expertise in crafting iOS apps for iPhones, iPads, and Apple Watches.

Android Apps

Skilled developers specializing in Native Android apps.
Prioritizing speed, security, and user-friendliness for phones and tablets.
Ensuring compatibility with the latest Android OS versions, with future upgrade support.

Cross-Platform Apps

Proficient in cross-platform development using React Native and Xamarin.
Adaptive solutions for varying time and budget constraints.
Building a single app for both Android and iOS, compatible with diverse devices.

Cloud Apps

Tailored cloud-based solutions, including CRM systems and enterprise-level applications.
Customized development to meet unique business requirements.
Skills and expertise to deliver customized applications as per your needs.
Technologies We Have Expertise Over
Artificial Intelligence

Enhancing software applications with AI for smart functionalities.
Integration of AI features such as face recognition, text recognition, bar code scanning, image labeling, and predictive modeling.

Internet of Things (IoT)

Designing and developing applications for IoT device interaction.
Monitoring connected product conditions, performing data analysis, and automating complex operations through IoT integration.
Our App Development Process
Catering to a Wide Range of Industries and Sectors
Healthcare

Telemedicine Solutions:

Create secure and user-friendly telemedicine apps for remote patient consultations and monitoring, ensuring timely healthcare services.

Electronic Health Records (EHR):

Develop EHR systems for efficient patient data management, enabling healthcare providers to access and update records seamlessly.

Health and Fitness Apps:

Build health tracking and fitness applications to promote wellness and provide personalized health recommendations.

Retail

E-commerce Platforms:

Design and develop e-commerce apps with intuitive interfaces, robust payment gateways, and personalized shopping experiences.

Inventory Management:

Create apps to streamline inventory control, manage stock levels, and optimize supply chains for retailers.

Customer Loyalty Apps:

Develop loyalty programs and reward systems to engage customers, boost sales, and enhance brand loyalty.

Fintech

Mobile Banking Apps:

Build secure and feature-rich mobile banking apps for convenient account management, transactions, and financial planning.

Payment Gateways:

Develop payment processing apps with encryption and fraud prevention measures to ensure secure online transactions.

Robo-Advisors:

Create robo-advisory platforms using AI for automated investment advice and portfolio management.

Ecommerce

Personalized Shopping:

Implement recommendation engines and personalized shopping experiences to increase sales and customer satisfaction.

Inventory and Order Management:

Develop apps for real-time inventory tracking, order processing, and efficient supply chain management.

Multi-Platform Support:

Ensure compatibility with web, mobile, and desktop platforms for a seamless shopping experience.

Logistics

Route Optimization:

Build logistics apps that optimize delivery routes, reduce costs, and improve delivery accuracy.

Tracking and Visibility:

Develop shipment tracking systems to provide real-time visibility into the movement of goods.

Warehouse Management:

Create apps to streamline warehouse operations, inventory control, and order fulfillment.

Manufacturing

Production Management:

Develop applications to monitor and control manufacturing processes, improving efficiency and quality control.

IoT Integration:

Enable IoT devices to collect data for predictive maintenance, reducing downtime and maintenance costs.

Supply Chain Visibility:

Create supply chain management apps for real-time tracking of raw materials and finished products, enhancing supply chain efficiency.

Startups

Minimum Viable Product (MVP) Development:

Assist startups in building MVPs to validate ideas, secure funding, and launch their products quickly.

Scalable Architectures:

Create scalable and flexible app architectures to accommodate rapid growth and changing requirements.

Lean Development:

Apply agile and lean development methodologies to efficiently iterate and adapt to market feedback.

Edtech

Online Learning Platforms:

Develop interactive and user-friendly e-learning apps with features for course delivery, assessments, and progress tracking.

Virtual Classrooms:

Enable virtual classrooms with video conferencing, collaboration tools, and content sharing capabilities.

Student Management Systems:

Build student information systems for educational institutions to manage enrollment, attendance, and academic records effectively.

Insurance

Policy Management Apps:

Develop apps that enable policyholders to access and manage their insurance policies, view coverage details, and file claims seamlessly.

Claims Processing Solutions:

Create efficient claims processing apps that simplify the claims submission process, facilitate document uploads, and provide status updates to policyholders.

Risk Assessment and Underwriting Tools:

Build underwriting applications equipped with data analytics and AI capabilities to assess risks, price policies accurately, and enhance the underwriting process.

Travel

Booking and Reservation Apps:

Create user-friendly mobile apps that allow travelers to easily search, book, and manage flights, hotels, rental cars, and activities, enhancing their travel planning experience.

Travel Assistance and Guides:

Develop travel companion apps that offer real-time updates on flight information, weather forecasts, local attractions, and travel tips to ensure a smooth and enjoyable journey.

Review and Feedback Platforms:

Build platforms where travelers can share their experiences, write reviews, and provide feedback on accommodations, restaurants, and tour operators, helping others make informed decisions.
Our Engagement Models
Dedicated AI Development Team

Our proficient AI and blockchain developers are fully immersed in leveraging cognitive technologies to provide exceptional services and solutions to our clients.

Extended Team Enrichment

Our extended team model is thoughtfully designed to support clients in expanding their teams with the necessary expertise for AI-driven projects.

Project-focused Strategy

Embracing our project-based approach, our skilled software development specialists collaborate directly with clients and the triumphant realization of AI-infused projects
Get Started Today

Contact Us
Complete our secure contact form, Book a calendar slot and set up a Meeting with our experts.

Get a Consultation
Engage in a call with our team to evaluate the feasibility of your project idea. We'll discuss the potential, challenges, andopportunities.

Receive Cost Estimates
Based on your project requirements, we provide a detailed project proposal, including budget and timeline estimates.

Project Kickoff
Upon agreement, we assemble a cross-disciplinary team to initiate your project. Our experts collaborate to launch your project successfully.
Start a conversation by filling the form
Build your top-notch AI product using our in-depth experience. We should discuss your project.
Frequently Asked Questions
What types of apps do you develop?
We specialize in developing a wide range of apps, including mobile apps (iOS and Android), web applications, desktop software, and cross-platform solutions. Our expertise spans various industries and use cases.
What does your app development process entail?
Our app development process is comprehensive, starting with a deep understanding of your vision and business goals. We collaborate closely with you through each step, from concept and design to development, testing, and post-launch support. Our goal is to bring your ideas to life and ensure a successful app.
Can you handle projects in different industries?
Absolutely! We have experience working across a wide range of industries, including healthcare, fintech, e-commerce, and more. Our adaptability and industry knowledge enable us to cater to diverse client needs.
What sets your UI/UX design apart?
Our UI/UX design prioritizes user-friendliness and aesthetics. We create interfaces that are visually appealing, intuitive, and aligned with your brand. We also conduct thorough testing to ensure an exceptional user experience.
How do you ensure the security of my app?
Security is paramount. We implement industry best practices and follow stringent security measures throughout the development process. We also conduct security audits and provide ongoing support to address potential vulnerabilities.
What post-launch support do you offer?
Our post-launch support includes regular updates, bug fixes, and performance improvements to ensure your app functions at its best. We're committed to the long-term success of your app.
How do you handle client communication and feedback?
Communication is vital to us. We maintain open and transparent communication channels throughout the project. We value client feedback and use it to refine our work and ensure your satisfaction.
What is your approach to handling unexpected challenges or changes in the project?
We adopt an agile development approach, which allows us to adapt to changes and challenges efficiently. We collaborate with you to find the best solutions and keep the project on track.
How do you ensure my app stands out in a crowded market?
We conduct thorough market research and competitor analysis to identify unique selling points and create an app that distinguishes itself in the market.
Is my app idea safe with you?
We prioritize client confidentiality and sign non-disclosure agreements (NDAs) to ensure the security of your app idea.
How do you handle app scalability for future growth?
We design apps with scalability in mind, ensuring they can handle increased user loads and additional features as your user base grows.
What is your approach to data security in mobile apps?
We employ encryption, secure data storage, and access controls to safeguard user data and ensure compliance with data protection regulations.