0

%

Business Efficiency with AI
Step-by-Step AI Mobile App Development Process
AI Mobile App Development comprises multiple crucial stages, each essential for creating a robust solution.
Skipping any of these steps can hinder the development of a powerful solution.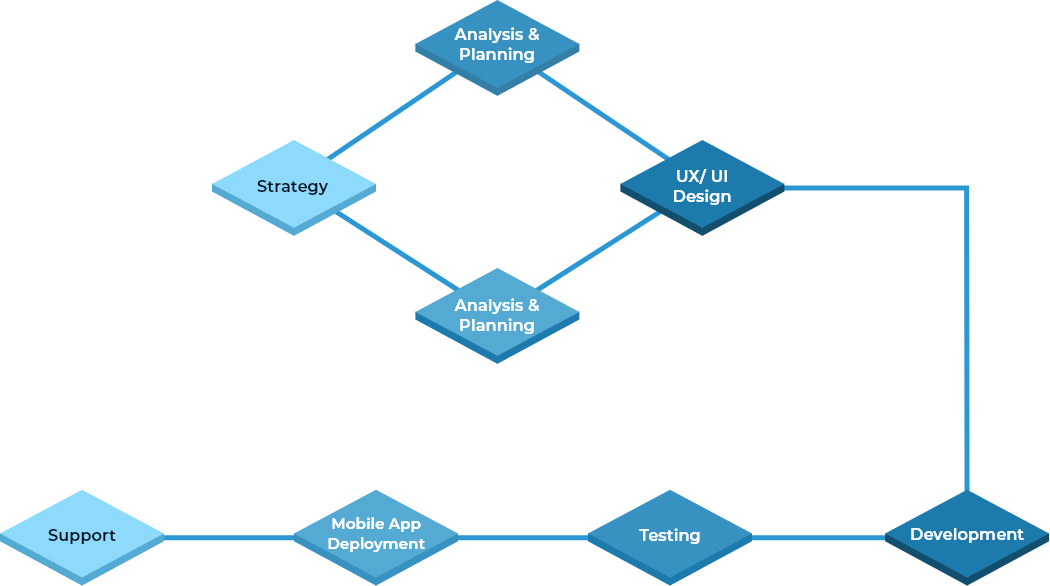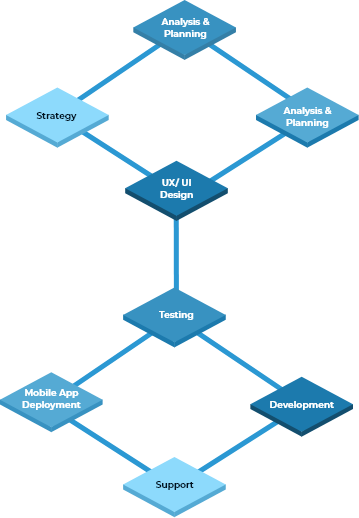 AI to Develop Mobile Apps
Machine learning, deep learning, and NLP power AI in mobile apps, enabling interaction, reasoning, and recommendations.
Powerful AI Mobile Apps Deliver high-ranking AI mobile apps for Apple Store and Google Play.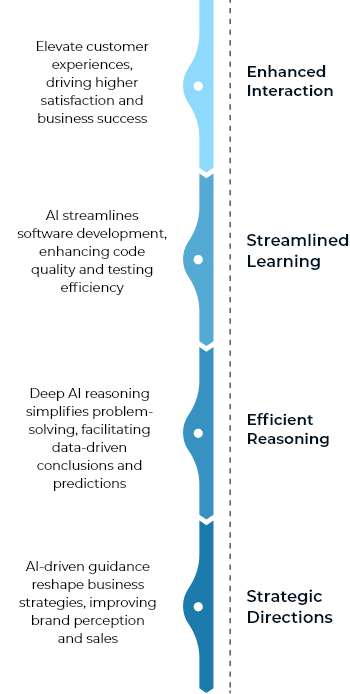 Achieve More with AI in Mobile Apps
Prediction Engine
Harness AI to predict and interpret user behavior, preferences, and buying intentions. Enhance ROI through user interaction analysis, customized recommendations, and predictive modeling.
Personalization Engine
Empower your app with a personalized engine to curate relevant content for users, boosting user engagement and revenue generation.
AI-Driven Visual Search
Transition from text search to visual search for scalability. Utilize machine learning to improve the speed and accuracy of visual searches, tailoring results to user intent.
Image Recognition
Implement image recognition across various sectors, including healthcare, e-commerce, banking, and entertainment. Detect products, diagnose diseases, combat counterfeiting, and enhance child safety online through facial recognition.
Real-Time Video Analytics
Optimize security and resource allocation with real-time video analysis. Monitor crowd behavior, prevent incidents, and leverage object detection and pose estimation for surveillance systems.
Data Extraction
Use AI for user insights and service customization. Automate data extraction from scanned documents and images, converting them into text for analysis and promotional purposes.
Cross-Platform AI App Development with Cloudester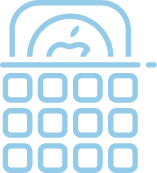 OS App Dev
Full-cycle iOS mobile app development, Swift & Objective C, scalable AI-powered apps for competitive edge.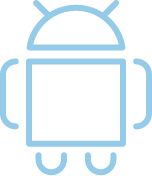 Android App Dev
Custom app development, enhanced customer loyalty, elevating app experience.

Cross-Platform App Dev
Realize your vision, go cross-platform, expand reach, and maximize ROI with multi-platform app publishing.
Our Serving Industries

Advertising

Banking and Finance

Education and Learning

Digital Health

E-Commerce

Entertainment

Sport

Travel
Get Started Today

Contact Us
Complete our secure contact form, Book a calendar slot and set up a Meeting with our experts.

Get a Consultation
Engage in a call with our team to evaluate the feasibility of your project idea. We'll discuss the potential, challenges, andopportunities.

Receive Cost Estimates
Based on your project requirements, we provide a detailed project proposal, including budget and timeline estimates.

Project Kickoff
Upon agreement, we assemble a cross-disciplinary team to initiate your project. Our experts collaborate to launch your project successfully.
Start a conversation by filling the form
Build your top-notch AI product using our in-depth experience. We should discuss your project.
Frequently Asked Questions
What is AI custom mobile app development?
AI mobile app development integrates artificial intelligence (AI) technologies into apps to enhance functionality.
Why use AI in mobile apps?
AI improves user experiences and automates tasks, leading to increased engagement and personalized services.
Common AI features in mobile apps?
Predictive analytics, recommendation engines, NLP, image/speech recognition, and content personalization.
Benefits of AI in business apps?
AI apps offer data insights, enhance customer service, boost retention, and drive revenue through targeted marketing.
AI for startups?
Startups can leverage cost-effective AI tools to improve services and gain a competitive edge.
AI app development timeline?
Varies by complexity, typically months to over a year.
Cost of AI app development?
Depends on complexity, features, team rates, and platform.
Data privacy and security measures?
Encryption, secure authentication, and adherence to industry security standards.
Integrating AI into existing apps?
Yes, AI features can be integrated via updates or extensions.
Getting started with AI app development?
Define app objectives, consult AI developers, create a development plan
Key trends in AI app development?
AI-driven chatbots, voice assistants, augmented reality, and edge AI are current trends.