0

%

Business Efficiency with AI
We Have the Expertise to Develop a Winning Product
Adapt Agility and Swift Implementation

Cloud-Native Development Expertise

Driven by Design in Engineering

Fueled by Agile Development Principles

DevOps & CICD
Led Processes

Modular Microservices Approach
Our Digital Transformation Capabilities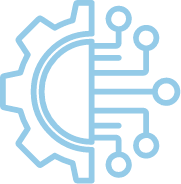 Digital Transformation Consulting
Create a comprehensive digital strategy.
Integrate emerging technologies with your business ecosystem.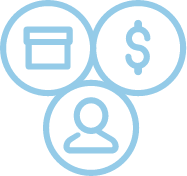 Business Model Transformation
Transition from physical to digital business models.
Rebuild legacy systems.
Implement emerging technologies for transformation.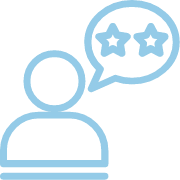 Customer Experience Transformation
Deliver customer insights.
Build and enhance customer-friendly digital solutions.
Leverage socially-informed understanding and analytics-based knowledge.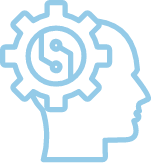 Intelligent Automation
Implement AI for automation.
Enhance processes and experiences.
Unlock the power of AI expertise for digital transformation.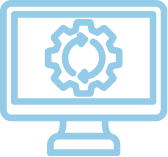 Digital Risk Management
Develop digital risk strategies.
Create control measures aligned with industry standards.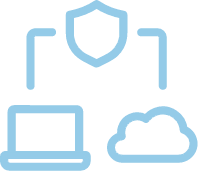 Security Transformation
Craft security strategies.
Stay ahead of evolving threats and technology trends.
Technologies for Digital Transformation
Artificial Intelligence

Utilize AI for pattern recognition.
Enable precise predictions.
Enhance productivity.
Support data-driven decision-making.

Internet of Things (IoT)

Develop customized IoT solutions.
Implement successful integration methods.
Deliver tangible business impact.
Use proprietary tools and scalable IoT platforms.

Blockchain

Simplify blockchain implementation.
Experience secure, transparent, and traceable digital transactions.
Leverage the advantages of blockchain technology.

Enterprise Mobility

Build mobile-first enterprise solutions.
Enhance revenue channels.
Improve staff efficiency.
Foster customer loyalty.

Robotic Process Automation (RPA)

Utilize RPA advancements.
Create cost-effective platforms.
Automate repetitive tasks.
Free up resources for value-added activities.

Augmented Reality (AR)

Digitally transform with AR adoption.
Enhance customer experience.
Foster customer loyalty.
Develop innovative and targeted user experiences.
Our Digital Transformation Process


Research and Discovery

Conduct in-depth research and discovery sessions to understand business operations and identify technological shifts.
Collaborate with clients to analyze existing legacy systems and define transformation requirements.

Idea Validation and Planning

Gather evidence and validate transformational ideas before proceeding to digital solution development.
Create a business-aligned plan and consider developing a Minimum Viable Product (MVP) based on validated ideas.

Design and Prototyping

Develop low-level and high-level designs along with technical blueprints for the digital solution.
Create a Marvel prototype to provide a visual representation of the project's functionality.

Development

Translate approved designs into reality by coding and iterating using agile development methodologies.
Utilize industry-standard tools and technologies for building the digital solution.

QA and Testing

Thoroughly test the solution with various methods and procedures to identify and report bugs.
Ensure a bug-free and error-free project delivery through testing at multiple levels, including developer, client, and end-user.

Support and Maintenance

Provide ongoing support and maintenance post-launch, including software enhancements and feature additions.
Ensure continuous system uptime and smooth operation as user numbers grow over time.
Web Application Development Platforms
Healthcare

Improve patient outcomes and enhance user experiences with data-driven solutions for healthcare organizations.
Enable accessible treatments for patients through digital innovations.

Logistics

Utilize AI and IoT technologies to streamline communication and optimize real-time fleet management for supply chain and logistics companies.
Elevate customer experiences in the logistics industry.

Manufacturing

Offer Digital Transformation Services tailored to the manufacturing sector, focusing on cost reduction, distribution efficiency, operational optimization, and product quality enhancement.
Support manufacturing companies in their digital journey.

Startups

Assist startups in securing funding by developing Minimum Viable Products (MVPs) and comprehensive digital solutions from the ground up.
Help startups turn their innovative ideas into reality.

Edtech

Transform educational institutes by leveraging emerging technologies to create smart learning solutions and knowledge-based applications.
Drive innovation in the education sector.

Retail

Empower retail businesses with digital transformation solutions such as retail apps, e-commerce portals, real-time AI chatbots, and IoT-enabled in-store solutions.
Enhance the retail customer experience and operational efficiency.
Our Engagement Models
Dedicated AI Development Team

Our proficient AI and blockchain developers are fully immersed in leveraging cognitive technologies to provide exceptional services and solutions to our clients.

Extended Team Enrichment

Our extended team model is thoughtfully designed to support clients in expanding their teams with the necessary expertise for AI-driven projects.

Project-focused Strategy

Embracing our project-based approach, our skilled software development specialists collaborate directly with clients and the triumphant realization of AI-infused projects
Get Started Today

Contact Us
Complete our secure contact form, Book a calendar slot and set up a Meeting with our experts.

Get a Consultation
Engage in a call with our team to evaluate the feasibility of your project idea. We'll discuss the potential, challenges, andopportunities.

Receive Cost Estimates
Based on your project requirements, we provide a detailed project proposal, including budget and timeline estimates.

Project Kickoff
Upon agreement, we assemble a cross-disciplinary team to initiate your project. Our experts collaborate to launch your project successfully.
Start a conversation by filling the form
Build your top-notch AI product using our in-depth experience. We should discuss your project.
Frequently Asked Questions
What is digital transformation, and why is it important for businesses?
Digital transformation is the process of integrating digital technologies into all aspects of a business to improve operations, enhance customer experiences, and drive growth. It's crucial for staying competitive and relevant in today's digital age.
How can digital transformation benefit my business?
Digital transformation can lead to increased efficiency, cost savings, better customer experiences, and the ability to adapt to changing market conditions. It can also open up new revenue streams and business opportunities.
How long does it take to implement digital transformation solutions?
The timeline for digital transformation varies depending on the complexity of your project and your specific goals. We work closely with each client to create a customized plan with a realistic timeline.
Is digital transformation suitable for businesses of all sizes?
Yes, digital transformation is relevant for businesses of all sizes. We tailor our services to meet the unique needs and resources of each client, whether they are a small startup or a large enterprise.
How do you ensure the security of digital transformation solutions?
Security is a top priority for us. We follow industry best practices and implement robust cybersecurity measures to protect your digital assets and data throughout the transformation process.
Do you provide ongoing support after implementing digital solutions?
Yes, we offer ongoing support and maintenance to ensure the continued success of your digital transformation initiatives. We're committed to your long-term growth and success.
What role does artificial intelligence (AI) play in digital transformation?
AI can automate processes, provide data insights, and enhance decision-making, making it a valuable component of digital transformation. We can help you leverage AI for your specific needs.
How do you ensure that our existing systems can integrate smoothly with new digital solutions?
We conduct a thorough assessment of your current systems and design solutions with compatibility in mind. Our goal is seamless integration to minimize disruptions.
What are the typical challenges businesses face during digital transformation?
Challenges may include resistance to change, data security concerns, and ensuring that employees are adequately trained. We offer change management strategies to address these issues.
Are there regulatory compliance considerations when implementing digital solutions?
Yes, compliance with industry regulations is crucial. We ensure that our solutions align with relevant regulations and standards to avoid legal issues.