0

%

Business Efficiency with AI
Our Software Consulting Services
Software Launch Consultation

Plan and assess new software solutions (mobile, web, desktop, or SaaS).
Evaluate and enhance existing solutions.
Expert assistance in selecting the right technology stack.
Improve design to optimize user experience.
Estimate expected ROI, timeframes, and project costs.

Technology Stack Selection

Comprehensive guidance in choosing the most suitable technology.
Tailored recommendations to scale your business effectively.
Ensure your technology aligns with market trends and industry standards.

Software Integration and Enhancement Guidance

Augment existing software applications with added functionalities.
Enhance software value and user satisfaction.
Incorporate emerging technologies like blockchain, IoT, AI, and cloud computing.
Prioritize security and scalability enhancements.

Software Compliance Advisory

Develop industry-grade custom software applications.
Ensure compliance with relevant standards and regulations.
Streamline software development and QA processes for compliance.
Maintain adherence to industry norms and best practices.
Our IT Consulting Process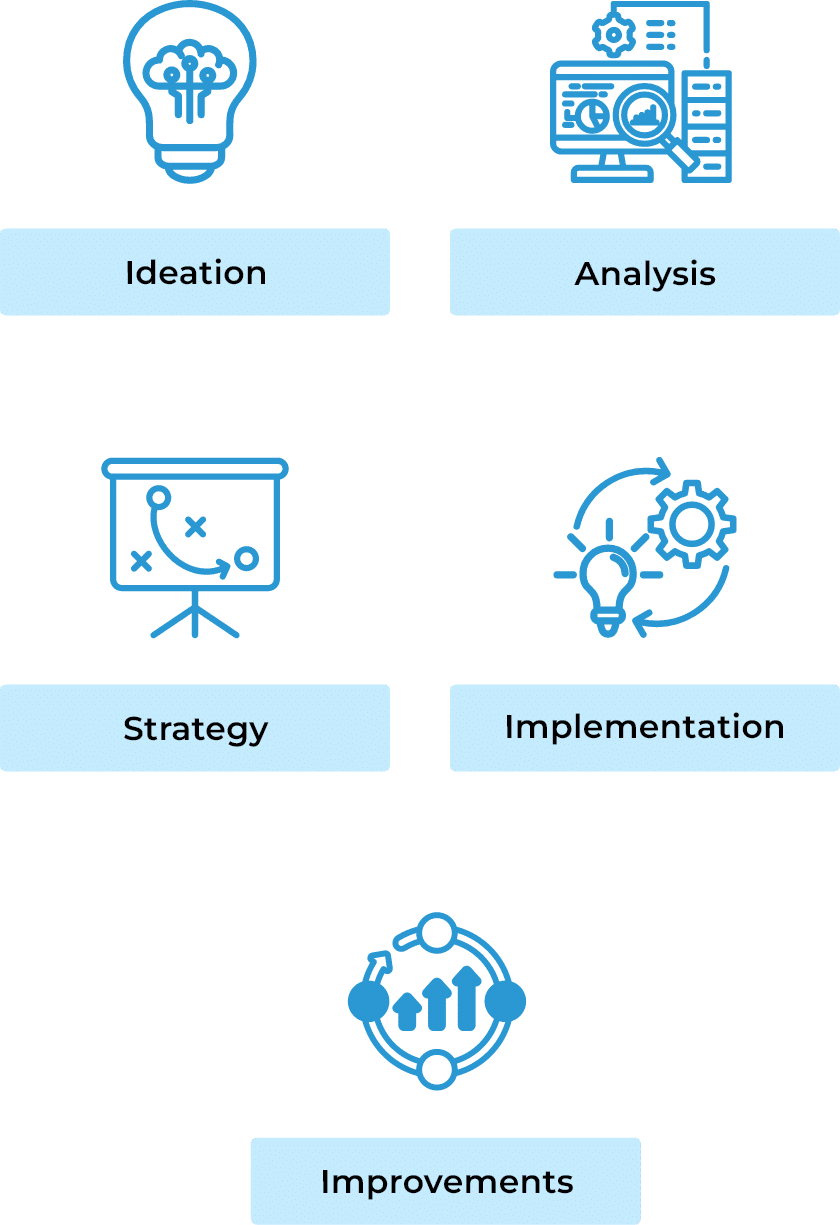 Ideation
Collaborate with our IT Consulting Service team to assess project feasibility. Define clear business objectives and system workflows.
Analysis
Our IT consulting experts analyze your existing IT support services. Explore possibilities for migrating to new technologies to align with your business objectives.
Strategy
Develop a strategic roadmap to leverage cutting-edge technologies. Streamline and optimize your software infrastructure. Establish key performance indicators (KPIs) for software and employees.
Implementation
Our IT Consulting Service team employs industry best practices for product development. Ensure clients reap maximum benefits from IT solutions.
Improvements
Continuously seek opportunities for enhancements and innovation. Stay at the forefront of technology for a competitive edge. Embrace the latest IT advancements to gain a first-mover advantage.
Technologies that our software development team works on
Blockchain Technology

Leverage our extensive experience with 20+ Fortune500 clients.
Unlock the potential of Blockchain for your business concept through our software strategy consulting services.

Artificial Intelligence

Harness the power of next-generation AI with our expertise in Machine Learning, RPA, Image Processing, and Deep Learning models.
Transform your business with cutting-edge AI software solutions tailored to your needs.

Augmented Reality

Embrace the potential of AR to streamline essential tasks and boost efficiency.
We specialize in turning innovative ideas into real-world AR applications that deliver tangible value.

Mobile & Web Apps

Benefit from our team's pioneering experience, including launching one of the first commercial apps on the App Store.
Receive end-to-end assistance, from ideation to successful mobile/web app launch, ensuring your project's success.

Internet of Things

Tap into our extensive knowledge of IoT systems and technologies.
Our IoT specialists design and develop secure IoT solutions that facilitate data collection and enhance critical processes for your business.
Our Custom Software Consulting Span over Diverse Industries
FinTech

Automating complex financial processes for quick settlements.
Enhancing speed and security in financial transactions.

Healthcare

Improving healthcare services through cost-effective automated health checks.
Empowering healthcare professionals with time-saving solutions.

Retail & E-Commerce

Innovating shopping experiences with engaging digital solutions.
Enhancing customer and business interactions in the retail sector.

Logistics

Simplifying logistics operations through the latest technology.
Minimizing operational hurdles for streamlined logistics.

Startup

Bridging the gap between entrepreneurial dreams and practical tech solutions.
Fostering innovation for startups with user-friendly technology.

Automotive

Revolutionizing the automotive industry with remote vehicle management.
Enhancing manufacturing processes through digital transformation.

Manufacturing

Automating production processes for increased efficiency.
Reducing operational costs with custom software solutions.

Travel & Hospitality

Elevating travel efficiency and comfort with custom tech solutions.
Facilitating seamless travel experiences for passengers, parcels, and staff.
Our Engagement Models
Dedicated AI Development Team

Our proficient AI and blockchain developers are fully immersed in leveraging cognitive technologies to provide exceptional services and solutions to our clients.

Extended Team Enrichment

Our extended team model is thoughtfully designed to support clients in expanding their teams with the necessary expertise for AI-driven projects.

Project-focused Strategy

Embracing our project-based approach, our skilled software development specialists collaborate directly with clients and the triumphant realization of AI-infused projects
Get Started Today

Contact Us
Complete our secure contact form, Book a calendar slot and set up a Meeting with our experts.

Get a Consultation
Engage in a call with our team to evaluate the feasibility of your project idea. We'll discuss the potential, challenges, andopportunities.

Receive Cost Estimates
Based on your project requirements, we provide a detailed project proposal, including budget and timeline estimates.

Project Kickoff
Upon agreement, we assemble a cross-disciplinary team to initiate your project. Our experts collaborate to launch your project successfully.
Start a conversation by filling the form
Build your top-notch AI product using our in-depth experience. We should discuss your project.
Frequently Asked Questions
What is a Software Consulting Company?
Software Consulting involves the provision of specialized expertise in the realm of software to assist third-party organizations. These services come into play whenever an organization seeks expert advice and insights regarding a business concept or decision.
A Software Consulting Company is the term used to describe an organization dedicated to providing these valuable services, helping clients navigate the intricate world of software and make informed choices to achieve their objectives.
What is the difference between Software Consultant and Developer?
A Software Consultant plays a crucial role in crafting a tailored roadmap for a software product, specifically designed to address the unique needs of a particular industry use case. Consultants analyze any existing systems, if applicable, and determine how the integration of new technologies can enhance efficiency.
In contrast, a Software Developer takes on the responsibility of translating the ideas and requirements discussed during the consulting phase into tangible reality. Their role centers around building and creating the actual software solution based on these consultations and specifications.
What software consulting services do consultants provide?
Software Consultants provide a diverse array of services, encompassing:
Software Launch Guidance: Offering expert advice and strategies for successful software launches.
Software Technology Consultation: Providing insights and recommendations on software technologies and strategies.
Technology Stack Assessment: Identifying the most suitable technology stacks to align with business objectives.
Software Compliance Advisory: Ensuring software solutions adhere to industry standards and regulations.
Software Integration and Enhancement Expertise: Assisting in the integration and improvement of software applications, leveraging the latest technologies.
What are the benefits of hiring a Software Consulting Company?
Engaging a software consulting company offers a host of advantages:
Reduced Downtime: Minimizing operational disruptions and ensuring smoother transitions.
Enhanced Focus: Allocating more time and resources to core business activities.
Heightened Productivity: Streamlining processes and workflows for improved overall efficiency.
Cost-Efficiency: Optimizing expenditure through expert guidance and resource allocation.
Enhanced Security: Bolstering data and system security to safeguard against potential threats.