­­­­­Our IT Software Development Services
Small businesses and company owners rely on the latest technological innovations to attract their target audience. At Cloudester, we have got you covered with some peculiar software ideas that are sure to meet your purpose. Let's understand how we help you succeed & grow!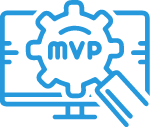 Minimal Viable Product (MVP)
Are you ready to get your product up and running?
From analyzing your idea to choosing the adequate scopes and deciding on the technology, we will be there throughout the project management to get an MVP ready that performs exceptionally well.

Technology Migration & Innovation
Whether you want to just revamp your product with new technologies or build an entirely new tool to bring digital transformation in the business operations, we can help!
Redesign your business model, innovate to unlock new opportunities, and thrive against the competition.

Full-End Product Engineering
From restricting your development approach to redesigning a new software model for you, we do it all. We have dedicated teams to take over your development department completely and make the process more agile while scaling up the business growth.

Startup Advisory
We are not just like all other software development companies for startups, we can also help you with any sort of business consultations. Like if you want to get a detailed analysis of the market or competitors or want to understand your audience more, you can always count on us.