Developing software has come so far in 2021. With new trends surfacing almost constantly, it can be daunting to determine the right approach to software development. Fortunately, our clients can count on Cloudester Software LLP in delivering productive, efficient, and consistent development and maintenance.
Cloudester Software LLP is a New York-based development company that provides bespoke software solutions. We help our partners achieve stellar results through meticulous design and discipline. In the last decade, Cloudester Software LLP has earned a reputation for streamlining the development processes of its partners.
As we aim to guide more clients toward development excellence, we've recently received our very first 5-star rating on Clutch, a market research authority.
If you didn't already know, Clutch is the leading ratings and reviews platform for IT, marketing, and business service providers. Each month, over half a million buyers and sellers of services use the Clutch platform, and the user base is growing over 50% a year. Clutch has been recognized by Inc. Magazine as one of the 500 fastest-growing companies in the U.S. and has been listed as a top 50 startup by LinkedIn.
To receive this first review is monumental for our team as it symbolizes the progress we've achieved as we aid our partners.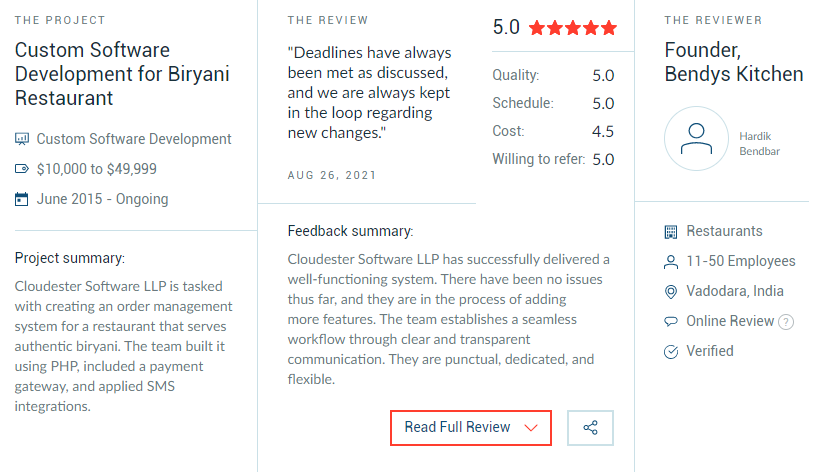 In their interview with Clutch analysts, the founder of Bendys Kitchen showed the importance of a close client-to-vendor relationship in order to accomplish great results. They explained the main challenges involved in their ongoing relationship with our team, and how we've managed to solve them and continue to do so.
"We approached Cloudester to build a system for us to manage an order from start to finish, including payments, delivery, and kitchen order management.
The system is built on a PHP framework and has integrations with SMS providers and payment gateway. Overall, we are very happy with the system and are building more features on top as per our growing business needs."
— Hardik Bendbar, Founder of Bendys Kitchen
Through the new software, the client now can more accurately direct their marketing efforts for guaranteed success.
Visit our Clutch profile to learn more about this project. We're also listed among the best companies that provide WordPress Development on The Manifest, Clutch's sister B2B website.
Need help in your software development? Get started by sending us an inquiry and earn a free quote today!